SOMERSET NEWS: Red Berry MD is a Business Leader Top 50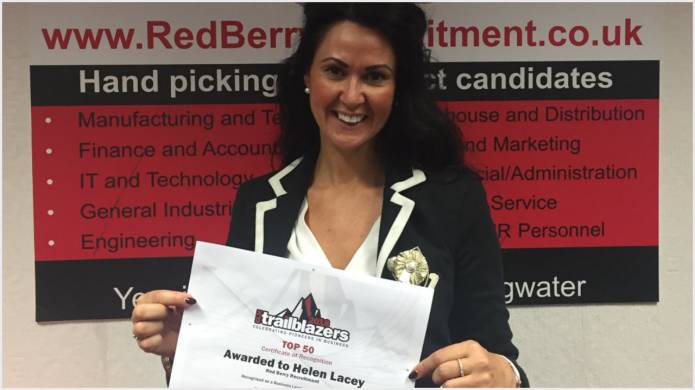 THE managing director of Red Berry Recruitment, Helen Lacey, has been named in Business Leader Magazine's Top 50 South-West Entrepreneur list.
Helen is one of only three women who have made the prestigious list – something that is a real achievement for the Somerset Businesswoman.
For the feature "50 Business Leader Trailblazers" Business Leader magazine selected 50 business people who have had a positive impact on the South West economy in their respective sectors. The magazine has chosen people who are all risk takers, wealth creators and in the magazine's own words "trailblazers".
Helen is accompanied on the list by the great and the good of business from across the region. The list includes key figures from well-known businesses such as Superdry, Pieminister, and Lovehoney as well as celebrity entrepreneurs such as Dragons' Den's Deborah Meaden.
Helen said: "It was a genuine surprise to receive the email from Business Leader Magazine telling me I had made the list of their top 50 South-West Entrepreneurs!
"I am extremely honoured to be featured especially alongside Deborah Meaden – a woman that I really admire and is an inspiration to me. It is even more special to be one of only three woman who have made the top 50. Thank you so much for the honour – I am really proud."
To see the full list the latest edition of Business Leader Magazine is available now online and in print.
Helen is the MD of Somerset-based recruitment agency Red Berry Recruitment which was established in 2007. 
Red Berry Recruitment has four branches - Shepton Mallet, Yeovil, Brigwater and Cardiff – and supplies temporary and permanent recruitment to the industrial and commercial sectors to companies across the South-West.
Helen is also the vice chair for the Somerset Chamber of Commerce, is on the Board for the Heart of the Southwest LEP, sits as a Non-Exec Director for Inspire to Achieve and is the Chair for the Somerset IoD branch.
Helen was awarded an Honorary Fellowship of the Institute of Recruitment Professionals by the Recruitment and Employment Confederation (REC) in December 2017.
The HonFIRP is the highest accolade bestowed upon individual members and is awarded at the discretion of the Recruitment & Employment Confederation's elected Council. The Honorary Fellowship membership recognises an outstanding professional career, as well as an exceptional personal contribution to the REC, IRP and recruitment industry as a whole.
Tags:
News.