BUSINESS: Launch of Nostara – a new luxury home fragrance brand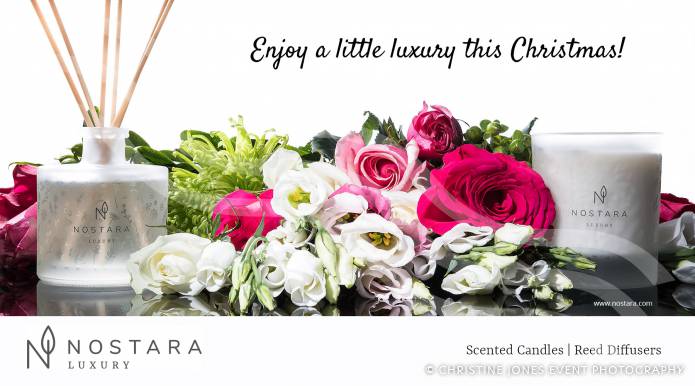 SOMERSET friends Nikki Holt and Alex Bowring have launched a new name in British luxury home fragrance – Nostara.
This newly-launched brand has already gained keen admirers who love the premium fragrances, luxurious design and beautiful styling.
Nostara hopes to be the "friendly face" of luxury home fragrance, where customers know they will receive the highest of quality, with a personal touch.
Alex said: "We'd like to think that your relationship with Nostara will be like dealing with a trusted friend who, like you, loves the best things in life."
Nostara luxury candles and reed diffusers look gorgeous and smell divine. Using 100 per cent natural soy wax (an eco-friendly, renewable source which produces a clean, even, long lasting burn), their candles are hand poured in the South West of England using premium quality fragrances and essential oils.
From the stunning glassware (intricately frosted with their iconic brand logo and motif), to their rose gold lids and understated packaging – their products are the epitome of luxury.
And the aromas? As in perfumery, all the scents have been designed with an emphasis on complex fragrance notes – giving a multi-dimensional olfactory experience.
The Nostara launch collection is a carefully curated edit of fragrances. Whether you are tempted by their zesty homage to G&T – Lime & Junier Berry, or their seductive take on the Queen of Flowers – Ebony Rose, there's sure to be something for everyone.
Take a peek at their full range of home fragrance at https://nostara.com/ .
Nikki said: "The epitome of luxury, Nostara candles and reed diffusers are aspirational but accessible, bringing a sense of luxury to the everday."
And for all the Christmas fanatics out there? Look no further than the Nostara Limited Edition candle – Frosted Fir. Their debut Christmas home fragrance (with decadent, pure essential oils) combines the essence of a frosted forest with indulgent notes of spiced clementines – encapsulating the magic of Christmas!
Proudly created in collaboration with Marina Barcenilla (world renowned perfumer and winner of the Fragrance Foundation 'Best New Independent Fragrance' Award 2017) it will bring the outside in and delight your senses, the perfect Christmas gift or indulgence for yourself.
Alex and Nikki said: "Nostara does it beautifully."
So make things easy on yourself this festive season and give a Nostara candle or reed diffuser to all your nearest and dearest. Who would not want to find that nestled in their stocking this Christmas?
For more news about Nostara – go to their website at https://nostara.com/ .
Tags:
Business.